Pioneering rally in Burma – mix of sport and sightseeing Words and images by Peter Hall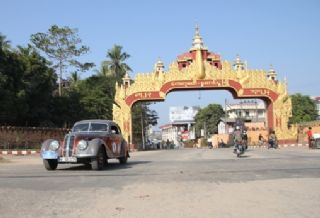 The Road to Mandalay: 19 January-8 February. Being first is never easy, but for H&H Classic Rallies, organising the first motorsport event in Burma was both a formidable challenge and a remarkable achievement. Following a military coup d'etat in 1962, the former British colony (now properly known as Myanmar) has been closed to the world for half-a-century and is only now, cautiously, emerging from isolation.
With unrest tantamount to civil war a recent memory in some areas, Myanmar's fledgling democratic government was understandably reluctant to allow a crowd of wealthy westerners to charge around the country at will and balked at the very mention of 'competition', associating the word with World Rally Cars and the like. 'Regularity' was more acceptable, however, and on that basis H&H was able to weave a competitive strand into a three-week event for a limited number of cars, making the very most of an unprecedented opportunity to explore a land half-remembered as a vicious theatre of WW2 yet boasting an utterly charming people and natural and man-made wonders to rival any on the planet.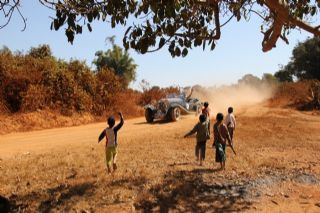 Attracted above all by this cultural adventure, the Road to Mandalay rally drew 22 entries in vintage and classic machines ranging in age from a 1928 Bentley Le Mans to a 1971 BMW 2800 CS, and in sporting provenance from an ex-works, ex-Roger Clark/Ove Andersson Ford Cortina Lotus to a Rolls-Royce Corniche bought on eBay. The competitors were an equally varied bunch, from 20-year-old Oliver Hoop, navigating father Erich's 1955 Chevy Pick Up, to 96-year-old Dorothy Caldwell in son Alastair's 1963 Rolls-Royce Silver Cloud III.
Following a 2,312km loop from Yangon (formerly Rangoon) to Mandalay and back, the leisurely itinerary allowed several days to be entirely devoted to sightseeing excursions by boat, train, elephant and hot-air balloon, whilst regularity sections were incorporated into driving days of no more than 300km. As it proved dauntingly stressful to maintain an average speed of 60kmh even in daylight, this allowed competitors reasonable time to explore roadside cafes, markets, temples and other attractions with no subsequent need to risk life and limb (or indeed Burma's first impression of classic rallying). It also avoided the truly scary prospect of night-driving on roads crowded with everything from unlit trucks to stray dogs and teenage girls herding goats; one crew who were obliged to drive after dusk following a breakdown arrived at the night halt trembling, with their eyes on stalks.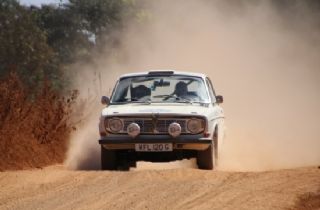 As a relatively undeveloped nation, Burma's motor traffic is lighter than that of some neighbouring countries but its road users are no less wayward; the convention of indicating to the nearside to discourage overtaking (and vice versa) also takes some getting used to. Although narrow and ill-defined, the road surfaces are surprisingly good thanks to numerous repair works, which sometimes require off-road detours worthy of Safari Rally stages, but often involve nothing more than a few women squatting unprotected in the middle of a busy highway with a small pile of stones and a bucket of tar.
Predictably, whilst some of the rally's novice crews faced a steep learning curve as they grappled with the concept of scheduled timing, as well as the bewildering variety of hazards and distractions, the more experienced endurance rallyists soon filled the top of the leader board.
Appropriately enough, it was car No 1, the 1938 BMW 327/28 of German couple Gerd and Birgit Buhler, that made all the early running, cleaning almost every timed section and establishing a clear 23-second lead until an unfortunate error on Day 15 at Bagan. There, manoeuvring for the start of a regularity on the sandy tracks of the spectacular Temple Zone, Gerd accidentally hit the accelerator rather than the brake, over-revved the engine and prompted the rally's only retirement.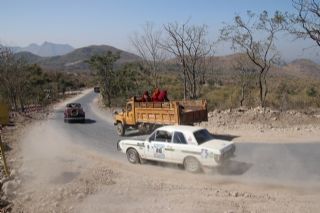 Portugal's Jose and Maria Romao de Sousa thus inherited a 44-second lead in their 1968 Volvo 142S, pursued by the 1971 BMW 2800 CS of Aussies Roger Allen and Maggie Gray, with the 1933 Lagonda M45 of Brits Richard Cunningham and Julian Hanson-Smith just five seconds behind. In the wake of this leading trio, battle was joined between the 1966 Aston Martin DB6 of Caymanian crew Julian Reddyhough and Gus Pope, the 1937 Chevrolet Master De Luxe of Belgian/Swiss pair Xavier del Marmol and Ines Bodner, the 1969 ex-works Ford Cortina Lotus of Heidi Winterbourne and Jackie Quinan and the 1963 Rolls-Royce Silver Cloud of Alastair and Dorothy Caldwell.
They reached the Yangon finish in that order, except the leading Volvo. In an inconceivably dramatic final twist, the de Sousas were actually last to cross the line, having been stopped by a broken throttle cable just a couple of kilometres short of the finish. Nevertheless, they took a popular victory on the end of a tow rope. Class awards went to the Allen/Gray BMW, Cunningham/Hanson-Smith Lagonda, Winterbourne/Quinan Ford and Buhler BMW. In spite of retirement, the Buhlers had still driven farthest in class without penalty, following an early wheel bearing failure on the rival 1930 Ford Model A of Adrian and Barbara Shooter. Meanwhile, driving a 1956 MGA roadster, Aussie novices Ian and Denise Besly picked up the Spirit of the Rally award for their unfailing enthusiasm and good-natured commitment.
The event drew high praise from all quarters, not least for its clever combination of competition and culture, a rare opportunity indeed as many of Myanmar's most delicate attractions are sure to be swamped by tourists in the near future. The Buhlers were not alone in believing that the event was unlikely to be equalled as the country is changing so fast, and Xavier del Marmol spoke for many when he described the H&H Road to Mandalay as, "The best rally I've ever done."
For more on H&H events including the Paris-Madrid Rally, running from 22-25 May, and now open to all pre-1974 cars, go to
hhclassicrallies.com
.