Click HERE – At the Checkout enter Discount code RETRO10

BOOK REVIEW By Peter Baker

SuperFinds – A truly unique selection of previously unseen photographs of important historic cars as found in the 1960s and 1970s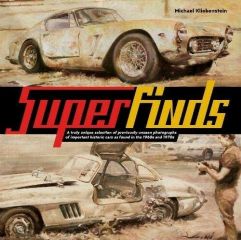 Books, generally, are becoming so big and heavy one has to attend regular fitness classes just to pick them up. This publication for example, complied by Michael Kliebenstein and published by Porter Press International, runs to 400 pages and some 900 images that together weigh a full half-stone. Not that I'm complaining. Except, to say, it's too big and heavy to keep by the bedside.
So, after all that, we've conclusively established that SuperFinds belongs at the very least, on a coffee table, which is fine by me. But let's not waste any more time over waffle because this is really a very good book.
From an archive containing over 4,000 negatives the chosen pictures tell the story of one man, in this case Corrado Cupellini, and his four-decade journey around the world seeking out and rescuing many important and valuable cars, running into hundreds. His first gem being an ex-works Ferrari 250 GT SWB found in Lima, Peru. Other finds include a 1957 Ferrari Testa Rossa, rescued from a scrapyard in Venezuela, a Bugatti Type 13 Brescia, a Porsche 911 3.0 RSR, even a 1955 Lister Jaguar raced by Jim Clark, and an Aston Martin DB4 GT Zagato, one of three that Cupellini has owned so far during his lifetime.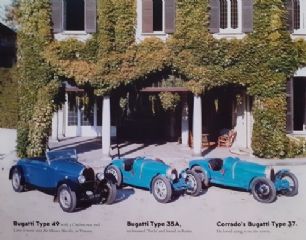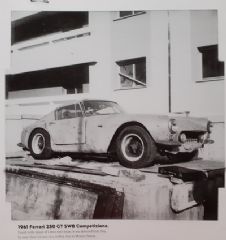 Although mainly a collector, Corrado was also a successful competitor, competing on Rallye Monte Carlo, and twice, in 1984 and 1988, winning the European Historic Racing Champion, driving his own Dino Monoposto 246.
This is a book of many layers with a story that slowly unfolds through its myriad early black and white and full-colour photos, and will give the reader many months, probably years, of seductive satisfaction. Therefore, even at £75 it can be considered good value.
One more thing worth bearing in mind, nobody can easily steal it. Recommended and given a rare five stars.
SuperFinds – A truly unique selection of previously unseen photographs of important historic cars as found in the 1960s and 1970s
Written by Michael Kliebenstein
ISBN 978-1-907085-89-5
Available from
Porter Press International
Price £90.00