BOOK REVIEW By Peter Baker

Dodge Viper: The full story of the world's first V10 sport car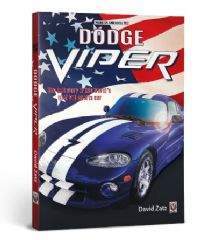 Anyone who watched the Dodge Viper, with its V10 engine, circulate the 1997 Le Mans flat out for the full 24 hours, will know just what an accomplished car this was.
In 1998, a Viper GTS-R won the FIA GT2 Championship, while Vipers also took the Drivers' and Manufacturers' American Le Mans Championship. Even in 2016, the Viper, now in GT3-R and ACR form, was still winning and breaking track records. To many, however, the climax came in 2017 and the setting of a 7m 1.3s lap time at the Nurburgring in a standard-built Viper running on road tyres.
At £19.99 this is a great value, 136-page book, full of colour and written with an obvious passion. It also tells the reader everything he/she needs to know about what we may soon regard as the last real American rebel. I give it five stars, to go with the stripes.
Introduced way back in 1992, the Viper was always fast, but simple, and signed off by the likes of Bob Lutz, Lee Iacocca and Carroll Shelby who, to begin with, thought the car underpowered. In the end, a Viper could go 0-100mph and back again a full half-second quicker than a Shelby Cobra.
Dodge Viper: The full story of the world's first V10 sport car
Written by David Zatz
ISBN 978-1-787115-29-3
Published by
Veloce Publishing Ltd.
Price £19.99